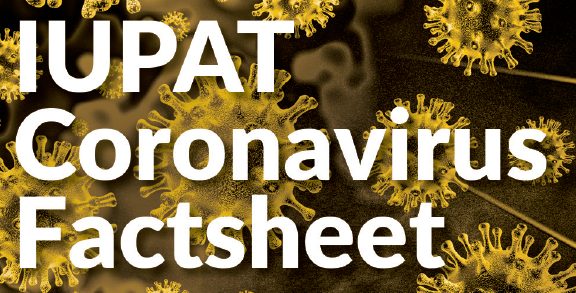 Statement on COVID-19

IUPAT District Council 82 is remaining up-to-date and current on the developing COVID-19 outbreak. The virus is a respiratory illness that is easily spread from person to person. Though an infected person may not show symptoms for many days, they may still carry the virus.
As representatives for almost 3,500 workers across Minnesota, North Dakota, Montana and Wisconsin, we are diligently monitoring the progress of the virus along with the International Union, state and local officials, and preparing for any potential impact to our members.
As expected, Coronavirus (COVID-19) is now appearing in Minnesota. We are continually monitoring the Centers for Disease Control and Prevention (CDC) and MN Department of Health's recommendations regarding preventive measures we can all take to manage the potential outbreak of COVID-19. No vaccine is currently available. Symptoms of this illness include fever, coughing and shortness of breath.
The best way to prevent illness is to avoid being exposed to this virus.
The virus is thought to spread mainly from person-to-person.
Between people who are in close contact with one another (within about 6 feet).
Through respiratory droplets produced when an infected person coughs or sneezes.
These droplets can land in the mouths or noses of people who are nearby or possibly be inhaled into the lungs.
Prevention steps include:
Wash your hands often with soap and warm water for at least 20 seconds, especially after going to the bathroom; before eating; and after blowing your nose, coughing, or sneezing. It is recommended to cover a cough with your elbow or sneeze into a tissue, not into your hands.
Use an alcohol-based hand sanitizer with at least 60% alcohol if soap and water are not readily available.
Clean and disinfect frequently touched objects and surfaces using a regular household cleaning spray or wipe.
Avoid close contact with people who are sick.
Stay home or go home if you're feeling sick with cold symptoms or fever.
Avoid touching your face.
Avoid shaking hands if possible. It may seem awkward, but it may prevent the spreading of the illness.
It is suggested that paper towels be used to dry hands after washing. Evidence has shown that if hands are not completely washed clean, that air dryers can make the virus air born.
If sick or symptomatic, stay home except to get medical care. Separate yourself from other people and animals in your home.

Governor Tim Walz has issued an Executive Order 20-01 declaring a peacetime state of emergency in Minnesota and unveil legislative proposals to combat the spread of this virus.
Governor Walz's top priority is the health and safety of Minnesotans.
That's why he took swift action today to prevent the spread of COVID-19.
He declared a peacetime state of emergency in Minnesota that will help ensure he has the tools in his toolbox that he needs to quickly respond to whatever COVID-19 may bring to our state.
He unveiled legislative proposals to prepare for the COVID-19 pandemic, including immediate assistance from the Legislature in creating a COVID emergency fund, removing financial barriers for Minnesotans who need to be tested, expanding the use of paid sick time, and providing long-term care facilities with more resources.
These actions came in conjunction with the Minnesota Department of Health announcing new community mitigation strategies to limit the spread of the virus, including canceling events of more than 250 people.
Additional information on these strategies is available on MDH's website, which is the best source of information on COVID-19.
We ask that all members actively practice proper cleanliness and health safety according to guidelines provided by the Center for Disease Control and Prevention.
Click here for the IUPAT Coronavirus (COVID-19) Fact SheetPlease don't hesitate to reach out to your healthcare provider if you feel that you or someone in your family has potentially contracted COVID-19.
If you have questions about the virus, don't hesitate to call the Minnesota COVID-19 Hotline at 651-201-3920